Converting houses into flats is becoming increasingly popular. There's a high demand for flats in Camden Town London, and splitting a property into units can maximize both rental incomes in the short-term, and profit on sale in the long-term.
Here's everything you need to know about converting a house into flats:
RESEARCH THE MARKET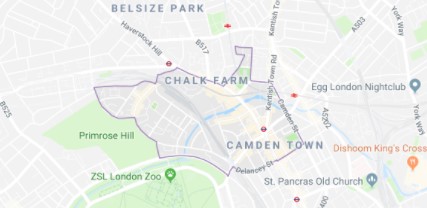 Are flats in demand in the neighborhood you're considering? This is one question many potential landlords forget to ask when purchasing a house to subdivide and if a mistake is made, it could be costly.
It's well worth nothing that when it comes to rental flats, some neighborhoods are in higher demand than others.
Researching the housing market is one of the best methods for maximizing rental profits, as in-demand locales and higher rents go hand in hand.
If four-bedroom properties aren't shifting but studios or 1 bedroom flats are, conversion seems sensible.
Click here to find the best rental yields in Camden Town London in a few clicks.
PLANNING IMPLICATIONS
The next thing to do is contact the planning department of your local council, as you're likely to need planning permission.
If you haven't yet purchased a house to split into flats, check with the local planning department before you invest. there may be requirements related to minimum flat size, soundproofing between neighbouring flats, insulation for comfort and energy efficiency, fire safety, and more. In some neighbourhoods, parking availability is an additional factor that comes into play.
Speak to Fortess Homes to find out what could be available for you now.
TAX IMPLICATIONS
There will be tax implications when converting a house into flats, and you'll want to take a closer look. This is particularly true if you're planning to sell your flats rather than renting them, and the amount of profit will have an impact on how much you owe.
Living in one of the flats rather than renting or selling all of them will allow you to take advantage of private residence exemption, at least for the time being.
PLANNING FOR RESIDENT NEEDS
Be sure to work alongside your estate agent as you're planning the best approach to attracting quality renters and meeting future residents' needs. Along the way, keep the following points in mind:
Flat size - Do renters in this neighbourhood tend to go for one-bedroom flats, or is the population composed of roommates or families who need rentals with more than one bedroom?
Flat design - What kind of design details will work best in the flats you're planning to build?
Services for each flat - Each flat needs its own electric, water, and gas connections. Since service providers have busy schedules and installation time varies, it's important to contact the services before work is underway.
COSTS
Costs will vary hugely from property to property, depending on the size, the new house design, condition and the number of flats you're converting.
THE LEGAL STUFF
Make sure you tell the solicitor dealing with the legal transaction of your plans to convert and ask them to identify any legal barriers.
If you're looking for a property with conversion potential, give us a ring on (020) 7482 1150, or check out the following properties
HERE!